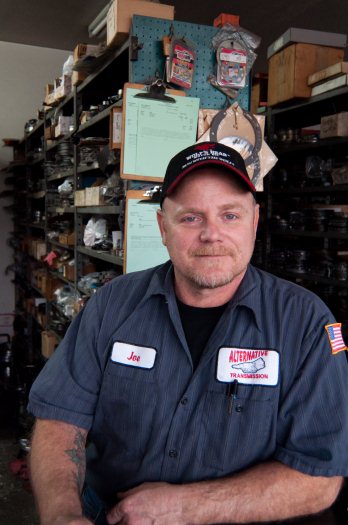 ABOUT US
Hi , My name is Joe Zahn and  Welcome to my Transmission and Auto Repair Facility.  I have been working on, and repairing cars since before I could drive (legally, that is). I have always had a fascination with vehicles and what it takes to make them run.  
I have been in the Transmission Repair field since 1982.   During my 30 years of experience in dealing with people in this field,  I have learned a valuable lesson and that is "treat people as you would want to be treated".  Over the years, I have worked for 1 or 2 large automotive dealerships and a few transmission franchises, where I have seen some horrendous work ethics.   Hundreds of customers mistreated and deceived by unfair business practices time and time again.   Working for these different establishments and witnessing some of these things, I can see why the industry has such a bad reputation.  Upon opening my own shop in 2001, I vowed NEVER to run a repair facility in that manner. Being in this business I can see why it has a bad reputation. I still see it happen around town, even today. "Treat people the way you would want to be treated"  What better way to keep a vehicle repair facility busy?  And this is why I have remained in business. This motto has kept our company flowing with a steady and growing business now for almost 12 years at the same location!
We take pride in our work and obviously want our customers to be satisfied.  90% of our advertising is done by the best possible way,  "word of mouth". Just  ask your neighbors and friends about us.
ABOUT YOUR TRANSMISSION
Your  transmission is the most intricate part of your vehicle.  And you want an experienced, trusted, ASE certified Transmission Technician to work on the most expensive and sensitive component in your car.   When you need an accurate diagnosis, just stop by and I will be more than happy to go for a road test with you.  This is the first step in any proper diagnostic procedure.  After a quick and free road test, we will discuss whether or not, and what repairs are necessary and an estimate will be provided.  Sometimes when your check engine light comes on, it may be as simple as a faulty sensor. Yes, it is very common.  Don't be taken in by someone telling you that a new transmission is needed, without a proper diagnosis.       
So the next time you suspect your vehicle is in a "SHIFTY MODE" come by and see Joe or Doug. Just give us a second to get clean and grab a floor mat and seat cover.  Does your service center do this ? Remember, we are a certified PA State Inspection station.  We also repair all aspects of vehicle drive train, including differential,  four wheel drive repair/rebuilding and don't forget,  standard transmission and clutch service. Brakes and front suspension is also some of our specialty. Anything else, please let us know.